Network connecting all regions of Japan
---
SHINASAHI CO.,LTD. as a member of the ISHIGURO Group, has a nationwide network system that allows us to respond quickly to our customers' service needs.
---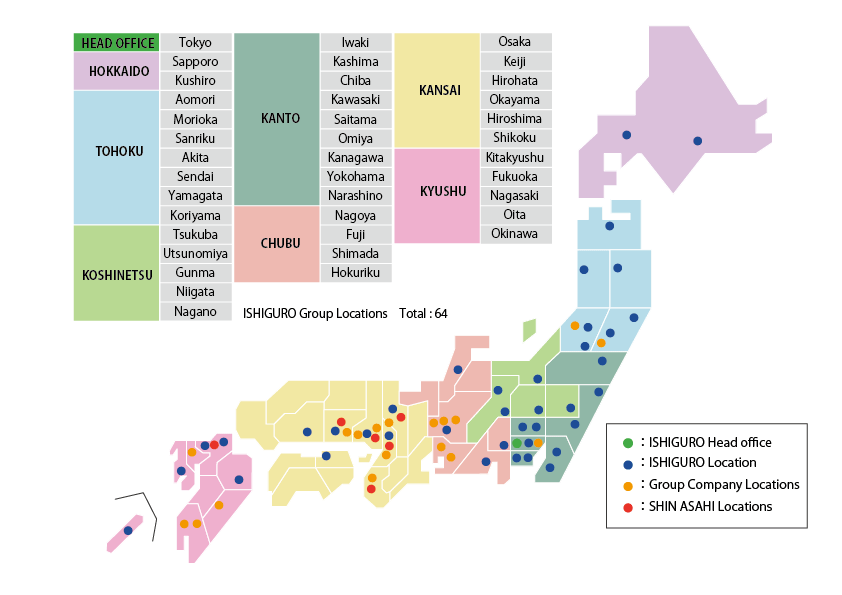 SHIGURO Corporation
Head Office
4-5-8, Hatchobori,Chuo-ku, Tokyo,Japan 104-0032
TEL.(81)3-3552-2161 FAX.(81)3-3551-5660
SHINASAHI CO.,LTD. Locations
Head Office
5-4-45 Nishikujo Konohana-ku, Osaka-shi, Osaka,Japan 554-0012
TEL.(81)6-4804-3673 FAX.(81)6-4804-4002
Hyogo Sales Office
1-90 Nagamachi Hirohata-ku, Himeji-shi, Hyogo, Japan 671-1125
TEL.(81)50-1704-7239 FAX.(81)79-230-2460
Keiji Sales Office
92-1 Takeda Nishidangawaracho Fushimi-ku, Kyoto-shi, Kyoto, Japan 612-8429
TEL.(81)75-643-0500 FAX.(81)75-643-0517
Okayama Sales Office
1-19-38 Kaminakano Kita-ku,Okayama-sh, Okayama, Japann 700-0972
TEL.(81)86-805-1877 FAX.(81)86-244-3322
Wakayama Sales Office
387-2 Nakanoshima, Wakayama-shi, Wakayama,Japan 640-8392
TEL.(81)73-473-2266 FAX.(81)73-473-1802
Kyushu Sales Office
3-8-24 Umihigashi, Umi-cho, Kasuya-gun, Fukuoka,Japan 811-212
TEL.(81)50-1704-7241 FAX.(81)92-933-3278
Group Companies
Ishiguro International Co.,Ltd. /Ishiguro International(Shanghai) Co.,Ltd.
PT. ISHIGURO INDONESIA
Shinko Metal Co.,Ltd.
Goko yamahiko Co.,Ltd.
San esu kanzai Co.,Ltd.
Sansyukikou shoukai Co.,Ltd.
Yamagatashinkokizai Co.,Ltd.
Niigatakanzai Co.,Ltd.
Katokan Co.,Ltd.
Kanesada kougyo Co.,Ltd.
---